Clients and Colleagues Say It Best
"Ron helped us become a better company offering a better product." —Logic Library
Ron Transforms Chaos to Clarity
Times like these call for flexible, agile software development leadership. What does your company need?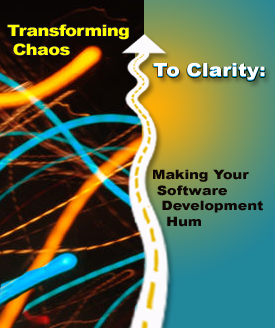 Interim Software Development Leadership
Mentor and Coach your Software Development Leaders
Quickly Address Critical Issues and Make Development Teams More Productive
Recruit and On-board the Developers You Need
Assess your Practices
Transform Chaos to Clarity
Reengineer Program Management to Get Delivery on Track
Solve your Tough Development and Product Challenges
I bring focus and solutions to every kind of organizational challenge:
| Challenge | Solution |
| --- | --- |
| Prior product took nine times budgeted resources | Repaired requirements, planning, roadmap processes to deliver subsequent products on time and to budget |
| Product lagging by months, no delivery in sight | Devised plan to instigate early delivery then iterate |
| Agile process faltering due to remote QA | Aligned teams, established trust, synchronized more frequent communication |
| Scalability stymied by sluggish data integration | Coached developer to "see" order-of-magnitude fix |
| Productivity bridled by uncertainty | Produced technology and product roadmaps to crystallize the future |
| Client projects limited by order-taking mentality | Coached team leads to propose customer solutions |
| New-product team mired in next-generation technology research | Forged cross-function ties to convert learnings into winning products |
| Sales gyrations giving product team whiplash | Delivered Agile training, coached product team to leverage frequent delivery |
| Critical next-generation product envisioned but stuck | Pulled committed but siloed individuals into a collaborative product team |
I'm a software development and product executive who helps companies from startups to the Fortune 100 struggling to deliver software solutions transform chaos to clarity and make their software development "hum". Since 1990, I have hired, managed and scaled teams and organizations of all sizes in companies ranging from tiny startups to the Fortune 500.
Since 2002, I have consulted with teams working in Java, Microsoft, and open source technologies to make them more effective at development and delivery. My track record includes:
Creating roadmaps everyone can follow
Focusing engineers on delivery, quality and customers
Building communication with every part of the organization
Mentoring VPEs, directors, managers and team leads
Motivating and inspiring software development teams
Increasing development throughput and delivering releases on time
In other words, I make software development predictable and reliable.