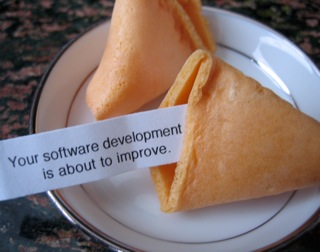 Chaos to Clarity: There Are Solutions
Interim Leadership
Transitionary leadership is often interim leadership. The leadership you need to quickly move your organization to new levels requires quickly grasping your product and development strengths and weaknesses, opportunities and threats; assessing your people, process, culture, communication, planning and rigor; and tweaking your systems to achieve the results you deserve. They're different skills than those required to keep your organization humming once it's running smoothly.
You may already have the leaders you need if only they had the maturity and experience that a little coaching would provide - or you had the processes in place that would let them focus on your product.
I have a proven track record for quickly assessing technology and product organizations, leveraging their strengths, and implementing just enough process to speed delivery of products customers love.
Mentoring and Coaching
Our industry's fast pace frequently requires promoting people before they're ready. Software developers aren't trained to be managers - not in college, not on the job. Unprepared software managers are destined to rediscover the same truths and reinvent the same wheels over and over.
It doesn't have to be that way. In fact, software development managers crave leadership knowledge and wisdom to match their technical skill.
I have been coaching and mentoring product and software leaders, at all levels, for two decades. I've written the book on it. Managing the Unmanageable: Rules, Tools, and Insights for Managing Software People and Teams. You don't need to wait for your managers to learn it all on their own. Buy the book. Let me coach them.
Creating Teams
Teams working together are dramatically more effective than individuals working alone. But expecting effective teamwork to emerge uncoached and unnurtured is as unpredictable as rolling dice.
I'm a team-builder. I have repeatedly demonstrated the ability to coax teamwork from groups of programming individuals, and to put culture in place that nurtures teamwork going forward.
Assessing Practices and Systemic Coaching
What have you got? Where do you stand? What do you need to do to get where you want to go?
I am an extraordinary listener. And I have an intuitive sense for what's working and what is blocking the way. From scores of teams and organizations, some working at peak function and others dysfunctional, I have gathered tools and insights I bring to bear.
Building Roadmaps
Roadmaps are essential to giving organizations direction, motivating teams and ensuring you deliver the right thing in the right timeframe. Yet roadmaps are all too rare. Not only are they hard to craft, but each one is unique. There is no roadmap for roadmaps!
I have repeatedly engaged organizations to collaboratively craft the roadmaps they desperately need. In some cases, those were organizations I had been part of for some time. In other cases, I walked in fresh. In each case, I facilitated the organizational learning and the collaborative sharing required to map out the organization's product and technology paths, both short-term and long-term.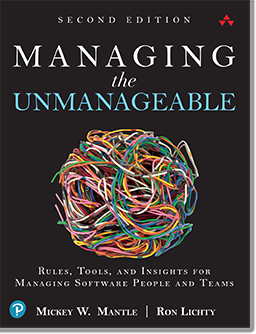 Transforming Organizations
People hate change... but they love progress. Software professionals want to be doing the best work of their careers.
I am a change agent. I leverage the love of progress to transform product organizations: to create organizations where programmers regularly find "the zone", where the organization is aligned to deliver its potential, and where everyone reaches a little bit further to make a real difference.
Delivering Products
Software development is, bottom-line, about delivering. And yet nothing can be as problematic as delivering quality software on time and on budget.
I have turned around organizations stuck in almost every rut that can hamper delivering. I have brought predictability to scheduling. My trial by fire was being hired, twenty years ago, with the explicit expectation of turnaround, in an organization that had just taken nine times estimated resources to deliver the company's core product. My teams delivered the next sets of products to budget and to schedule. Then and now, I have a good sense for blockages, and skill at devising and implementing innovative solutions.